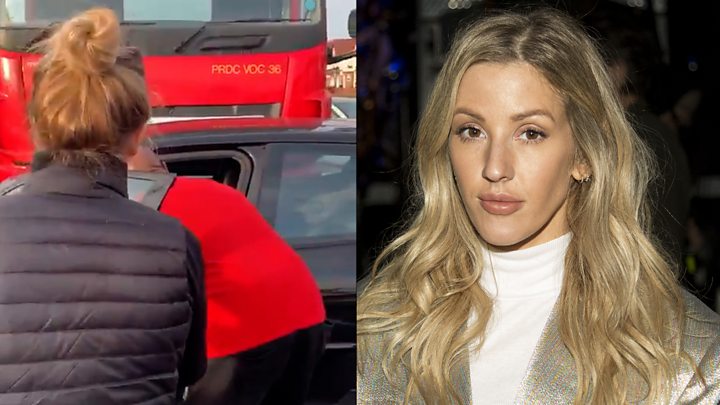 Singer Ellie Goulding came to the aid of a driver whose car was being pushed sideways along a road by a lorry.
Footage shows a Volkswagen GTi being pushed down Western Avenue, A40, by a Royal Mail delivery lorry near the Greenford roundabout in west London.
Goulding posted on Instagram to criticise other drivers who got out to film the crash and "shout abuse" at the lorry driver.
The Royal Mail says it is investigating the crash.
The truck driver appears astonished to see the car in front of his vehicle, claiming he did not see it, or know it was there.
He can be heard yelling: "I didn't see him, I honestly didn't see him."
Goulding told her 14.4 million Instagram followers: "On a side note, I can't believe the first instinct of the other drivers who got out was to instantly start filming on their phones and shout abuse at the poor shocked driver, not even checking the other driver was okay.
"What on earth."
Goulding told BBC Radio 1 she intervened because "no-one was stopping".
She said: "I think people were desperate to get to work. All these people were just driving on.
"We just drove up right next to it [the lorry] to be like 'Mate, you've got a car on you!'"
The driver who was dragged along the road later messaged the singer "to just say he was OK," she added.
The Met Police said there were no reported injuries and no arrests have been made.
A Royal Mail spokesman added: "We are very concerned about this incident. We sincerely hope that no one was hurt. We are investigating as a matter of urgency."
Road safety campaigner Rebecca Ashton told the Victoria Derbyshire programme she hoped it was not a stunt.
She said: "He must have been able to hear the scraping of the tyres – possibly a feeling of pushing a car."
You may also be interested in: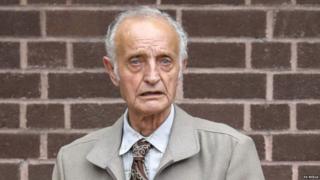 An 81-year-old man has been found guilty of acting as a getaway driver for a man accused of stabbing a rival in a drugs dispute.
Ian Hemmens picked up Mahamud Sami after the attack in Bognor Regis, West Sussex, on 10 March, the court heard.
The retired burger van driver had claimed that he went to the seafront town on that afternoon out of "boredom".
Hemmens, of Bognor Road, Chichester, was convicted of assisting an offender.
The trial at Portsmouth Crown Court also saw Akeem Adebayo, an accomplice of Mr Sami, being found guilty over his part in the attack.
The court heard Mr Sami and Adebayo had chased Dimitrijs Semelis along the seafront at about 17:45 GMT in a "dispute over the supply of drugs" before Mr Sami stabbed him five or six times while Mr Adebayo held him down.
Mr Sami, a student from Chichester, has evaded arrest, the court was told during the six-day trial.
Hemmens claimed he had driven to Bognor on that afternoon out of "boredom" and told police he had set off on his own and picked up two hitchhikers on the way.
The retired burger van worker said: "I thought I will pick them up and maybe I will have someone to chat to for 10 minutes."
Adebayo, 23, of Colindale Avenue in London, was found guilty of wounding with intent to cause grievous bodily harm and two charges of possessing cocaine and heroin with intent to supply.
He told police Mr Semelis had launched the attack, and he had only pushed him away in self-defence.
Amy Packham, prosecuting, told the jury Hemmens was waiting in his car when Mr Sami jumped in the back seat.
Hemmens and Adebayo will be sentenced on 19 October at Portsmouth Crown Court.
Follow BBC South East on Facebook, on Twitter, and on Instagram. Send your story ideas to southeasttoday@bbc.co.uk.